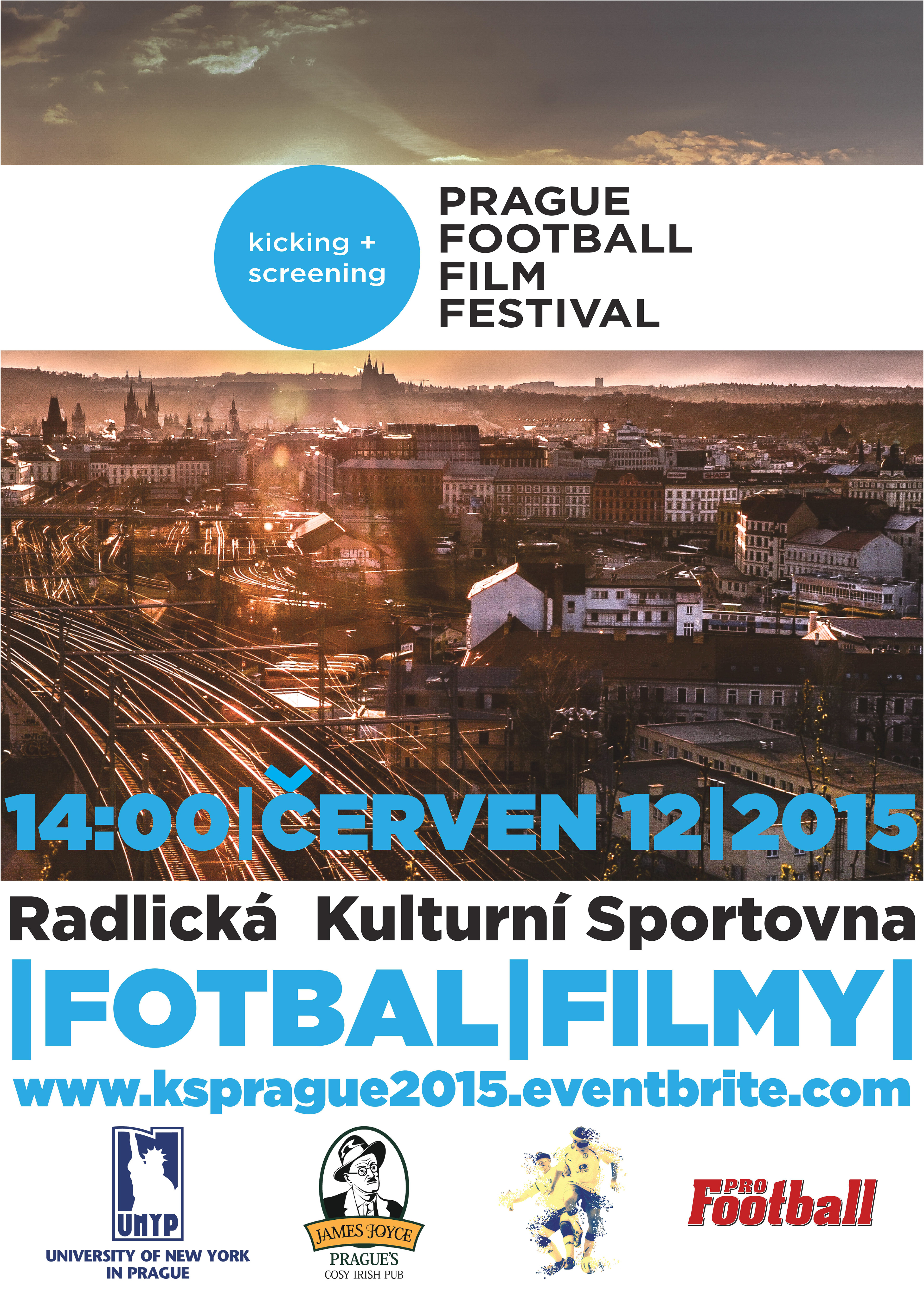 The Kicking + Screening Football Film Festival
is a football cultural event that brings together football and film enthusiasts to celebrate the beautiful game. From its humble New York City beginning in 2009, the K+S Football Film Festival has traveled all over the world, including Copenhagen, Liverpool, Rio de Janeiro and most recently Abu Dhabi. After helping the team in New York for a sold-out 2014 festival, I decided to bring the experience to Prague in 2015. It was hosted by
Radlická - Kulturní Sportovna
, near Anděl. The diverse roster of films offers a view of other cultures and societal issues, personal challenges, dreams and aspirations, and of course, the world of the fans.
The K+S Football Film Festival in Prague
will be a one-day event including film screenings, a special presentation of blind futsal, music and after party by DJ Strömblad (SWE).
About the K+S Festival
The K+S Festival was created in 2009 by two fervent soccer and film fans, Greg Lalas and Rachel Markus in New York. The success of the inaugural festival in NYC quickly evolved into a global festival celebrating football culture in other cities including Washington, D.C., Houston, Amsterdam, London, Liverpool, Copenhagen and Rio de Janeiro. The next K+S Festival in New York will be held June 23-26 in Tribeca in Manhattan.
Films
In Pavel Abrahám's football documentary
Dva Nula
(Two Nil, 2012) about a match between Sparta and Slavia, the filmmakers used 22 cameras to film the spontaneous reactions of various types of visitors. 
Football Father
(2008) by Michal Jozwiak, is an emotional short film about a blind masseur in one of the Polish football clubs and his little son. The audience will experience the world of blind football players through the story of the Czech Republic's first blind football tournament in the documentary
Bučovice Blind Football Cup 2013
. The internationally acclaimed film,
Baghdad Messi
(2013) directed by Sahim Omar Kalifa brings us to Iraq in 2009 where ten-year-old Hamoudi who lost his leg is totally obsessed with football. He is only allowed on the team because of his family's prized television.
Event
Apart from football films, visitors can enjoy playing a game of futsal, have a chance to win prizes and sway to the music during an after-party with plenty of drinks!  Members of the blind football team Avoy MU from Brno will give a special demonstration of blind football. The organization will host the annual
International Blind Football Cup
on June 19 in Bučovice near Brno, Czech Republic.
Special thanks to Oliver Parman, Jan Dvorak and Toby Hess for all their help in making this event possible.